The 31st Fashion ZAKKA Design Competition for ZAKKA Designers Applicant Guidelines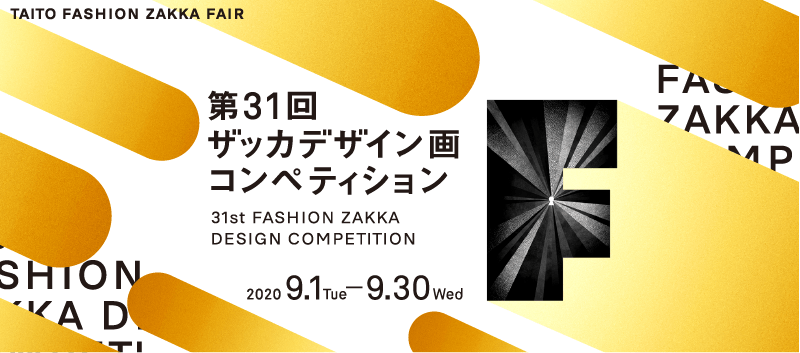 Taito City embraces major tourist attractions as Ueno and Asakusa, and furthermore, Taito City houses many local manufactures of fashion goods, such as leather items and hats. The 31st Fashion ZAKKA Design Competition is designed to reward the best and excellent designs through screenings of over 2,300 entries every year by judges who have established presence and been active in the forefront of fashion clothing and goods business.
Win the prize and chosen winners will be entitled to experience the whole process of product development from designing to manufacturing a sample in collaboration with manufactures. Join the 31st Fashion ZAKKA Design Competition to show and share your creativity.
■Category: (5 Categories in total)
Leather Division:
1 Shoes 2 Bags 3 Belts & Suspenders 4 Small leather items
Fabric Division:
5 Hats
※Use of leather for an entry design is the must for Leather Division.
※Entry is open to all apparel criteria, irrespective of Men's and Ladies.
※Examples of small leather items are wallets, purses, coin purses, pen cases, card holders, key cases, small bags, and stationaries; items commonly used to wrap and carry things, distributed as wallet, purse or stationary category, sold at shelves for wallet, purse, stationary. Accessories as earrings, rings, bangles and necklaces are excluded.
■Application Requirement:
Entry is available to all who are interested in ZAKKA design, irrespective of professionals and amateurs.
■Entry Period:
Tuesday, September 1, 2020 ~Wednesday, September 30, 2020, 23:59 JST
■Entry Method:
By the entry form found on the website below within the entry period.
■Conditions of Entry:
Conditions all entries share in common (for both Leather and Fabric divisions):
1 Competition entry design must be new, original, and an unpublished work.Award-winning designs, commercialized designs are not admitted.
2 In case of counterfeit work, winning prize will be withdrawn.
3 Design/designs must be feasible for practical product development and commercialization.  Fabrics and material, shapes, parts and pieces used for and applied to thedesign/designs must be feasible in terms of processing and manufacturing for commercialreality with the current technology. Any other materials than leather such as metals, plastics, and others requiring special processing should not be used.
4 Any indicative images such as logos, characters, brands that can indicate the applicant are not allowed.
Additional condition for Leather Division:
5 Taito City is the representative leather-manufacturing district of Japan. Part of the design/designs must be made of leather.
■Design Requirements:
Upload your design/designs in PDF format, colored. Both CG's and photos are accepted.
*Details on colors, materials are requisite. Attach additional text for details.
*Screening of entries will be proceeded on item basis rather than brand basis. Multiple entries are required if you wish to apply plural design works. A single entry per design is the requirement.
■Prizes:
Grand Prize 
Selected from among all entries and rewarded to a single design. The winner will receive a prize of 300,000.
Best Design Prize
Rewarded to one design per category. The winners will receive a prize of 50,000.
The category with Grand Prize winner will fall outside this prize.
Judge's Prize
Selected from among awarded entries, and every single judge selects one design to be rewarded. Judge representing Matsuya-Ginza will be excluded from the judges' list.  
Matsuya-Ginza Prize
Selected from among all entries and rewarded to a design selected by a buyer representing Matsuya-Ginza. Entitled to merchandise right under assumption of sales at Matsuya Ginza. 
Outstanding Design Prize
Rewarded to within 3 designs per category. The winners will receive a prize of 10,000.
Benefits to winners
・Collaborations with manufacturers in Taito City (for Grand Prize Award and Best Design Award winners only)
With collaborations with manufactures in and around Taito City, you will be entitled to experience sample-making process based on your design. Challenges to communicate your ideas to manufacturers and to select the best possible material and finishing touches from among numerous options will offer you a precious experience on product development process.
ZAKKA Factory Tour
Join a factory tour to ZAKKA manufacturing companies and discover the real production methods. Enjoy and experience the raw-and-real opinions, feedback of manufacturers.
■Screening Process
Winners will be determined through the 1st and the 2nd screenings executed by judges consisting of members from manufacturers and distribution companies of miscellaneous fashion articles in and around Taito City. Guests representing fashion industry will also be invited as guest judges to determine winners through screenings.
The winners will be announced in December 2020.
The awards ceremony will be held but it has not determined when it will. Details will be informed to winners by email.
■Evaluation Criteria:
Evaluation will be based on to what extent your design/designs can demonstrate excellence in
Creativity
Originality
Practicality
Marketability
■Other remarks:
1 By entering the competition you agree all entries become the property of the Executive Committee of Taito Fashion Fair and are non-returnable.   
2 Winning entries may be commercialized and Executive Committee of Taito Fashion Fair reserves all rights for the terms of sales.
3 Other than for the purpose of the 31st Fashion ZAKKA Design Competition outlined above your information will not be shared with any third parties.
4 This Applicant Guidelines is as of June 2020.
The contains, such as screening schedule, screening method and benefits to winners subject to change due to COVID-19.
【Contact】
Taito Fashion ZAKKA Fair Office
Email: info(at)oasisstyling.com
HP  http://54.150.145.202/wp
*Please replace (at) with @
Good luck and thank you for your entry.